It is with great pleasure and a sense of profound responsibility that I extend a warm welcome to all of you at Samarpan Deep B.Ed. College. As the Principal of this esteemed institution, I am both honored and excited to embark on this educational journey with each one of you.
At Samarpan Deep B.Ed. College, we believe that education is not just about acquiring knowledge; it's about nurturing minds, fostering critical thinking, and empowering individuals to become responsible and compassionate educators. Our mission is to provide you with a transformative learning experience that equips you with the skills and knowledge needed to excel in the field of education.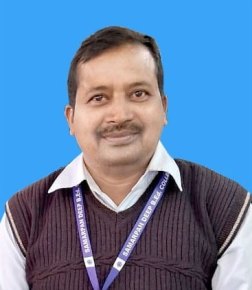 As you step into the world of B.Ed. studies, you are not only choosing a career but also embracing a noble profession that has the power to shape the future. Teaching is not merely a job; it is a calling, a vocation that requires dedication, patience, and a commitment to lifelong learning. Our college is here to help you embark on this journey, to refine your teaching skills, and to inspire the next generation of learners.
In our pursuit of academic excellence, we are fortunate to have a dedicated and accomplished faculty who are not only experts in their respective fields but also passionate about teaching and mentoring. They will guide you, challenge you, and inspire you to reach new heights.
Moreover, our state-of-the-art facilities, well-equipped classrooms, modern laboratories, and an extensive library are here to support your academic endeavors. We are committed to providing an environment that encourages innovation, creativity, and collaboration.
While academic rigor is crucial, we also emphasize the importance of holistic development. Education is not just about what you learn from textbooks; it's about personal growth, character development, and becoming responsible citizens. We encourage you to actively participate in extracurricular activities, clubs, and community service initiatives that will enrich your college experience.
I urge you to make the most of your time here at Samarpan Deep B.Ed. College. Engage with your professors, ask questions, seek knowledge beyond the curriculum, and develop a passion for lifelong learning. Remember, the education you receive here will not only shape your career but also your outlook on life.
As you begin this exciting journey, always keep in mind the words of Nelson Mandela: "Education is the most powerful weapon which you can use to change the world." Your role as educators will be instrumental in shaping the future of our society, and we are here to help you become the best you can be.
Once again, welcome to Samarpan Deep B.Ed. College. Let us work together to create a brighter and more enlightened future for ourselves and the generations to come.
Wishing you a successful and fulfilling academic year ahead.
With Best Wishes,
Dr. (Prof) Rajnish Pandey
Honorable Principal, Samarpan Deep B.Ed. College